URFA honours National Day for Truth and Reconciliation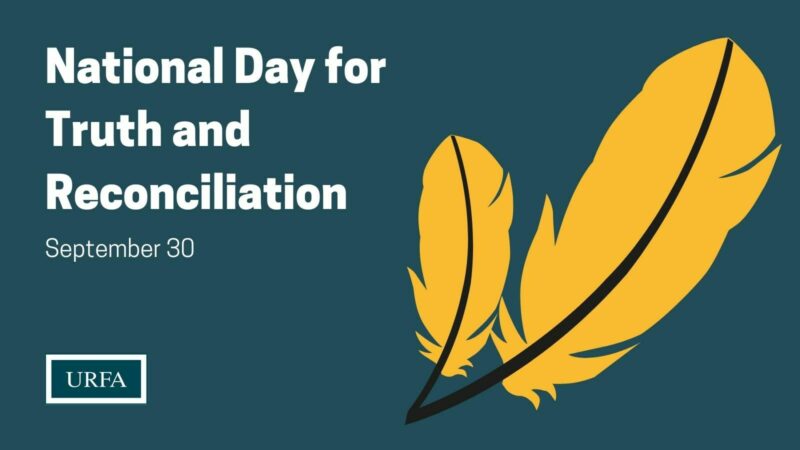 Sep­tem­ber 30 is Canada's first Nation­al Day for Truth and Rec­on­cil­i­a­tion. This day is one way to hon­our res­i­den­tial school sur­vivors, encour­age learn­ing about the atroc­i­ties of the res­i­den­tial school sys­tems, and prompt reflec­tion on how each of us can engage in rec­on­cil­i­a­tion to cre­ate a bet­ter future.
There are no words to ade­quate­ly describe the suf­fer­ing and trau­ma that Indige­nous chil­dren, their rel­a­tives and their com­mu­ni­ties expe­ri­enced through Canada's cul­tur­al geno­cide. While the res­i­den­tial school sys­tem no longer oper­ates, the real­i­ty is that racism and dis­crim­i­na­tion are still exhib­it­ed towards Indige­nous Peo­ples in mul­ti­fac­eted ways.
Our vision at URFA is that URFA mem­bers are diverse, engaged and secure in their employ­ment and phys­i­cal, men­tal, spir­i­tu­al and emo­tion­al health. In an envi­ron­ment of aca­d­e­m­ic free­dom, free­dom of expres­sion, col­le­gial­i­ty and respect, they dri­ve a cul­ture of teach­ing, research and com­mu­ni­ty engage­ment that makes the world a bet­ter place. Our office is rec­og­niz­ing this day as a statu­to­ry hol­i­day and we affirm the Uni­ver­si­ty of Regina's deci­sion to do so as well.
One of the ways we can bring our vision to life is to stand in sol­i­dar­i­ty with Indige­nous Peo­ples. Words can be pow­er­ful and clear ways to demon­strate our sup­port for Indige­nous Peo­ples and when we find ways to demon­strate our sup­port through action, we will see tan­gi­ble, pos­i­tive changes that will make the world better.
We've com­piled a num­ber of sug­gest­ed action items for all of us to learn about, and reflect on, rec­on­cil­i­a­tion and res­i­den­tial schools. Togeth­er, we can each con­tribute to rec­on­cil­i­a­tion and build a soci­ety where Indige­nous Peo­ples are val­ued, respect­ed and honoured.
Dis­cov­er
Offer finan­cial support
Read
Show
Wear orange as one way to vis­i­bly demon­strate your sup­port for, and sol­i­dar­i­ty with, Indige­nous Peoples.
Study
Enroll in the Rec­on­cil­i­a­tion Edu­ca­tion course offered by First Nations Uni­ver­si­ty of Canada.
Take the Indige­nous Cana­da course offered by the Uni­ver­si­ty of Alber­ta, which explores key issues fac­ing Indige­nous Peo­ples from an Indige­nous, his­tor­i­cal and crit­i­cal per­spec­tive high­light­ing nation­al and local Indige­nous-set­tler relations.